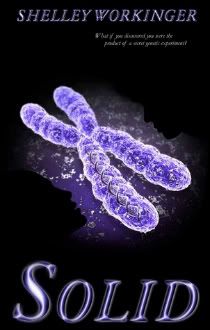 Release Date: July 9, 2010
Publisher: Self-pubbed
Pages: 221
Series: Solid #1
Review Source: eBook from author for review
Synopsis:
(from author's website)
Eighteen years ago, a rogue Army doctor secretly experimented with a chromosomal drug on unknowing pregnant women. When he was killed not long after the children were born, any knowledge and evidence seemed to die with him - except the living, breathing, human products of his work.
Almost two decades later, the newly self-proclaimed "open-book" military unearths the truth about the experiment, bringing Clio Kaid and the other affected teens to a state-of-the-art, isolated campus where they soon discover that C9x did indeed alter their chromosomes - its mutations presenting as super-human abilities. The military kids, who come from across the nation and all walks of life, come into their own as lighter-than-air 'athletes'; 'indies' as solid as stone walls; teens who can make themselves invisible and others who can blind with their brilliance.
While exploring her own special ability, forging new friendships and embarking on first love, Clio also stumbles onto information indicating that the military may not have been entirely forthcoming with them and that all may not be as it seems…
My Thoughts:
Do you know how much I love movies and books about government conspiracies and secret testing? So much! So I was very pleased to be able to read 'Solid', the first in a trilogy about those very subjects. This is a bit of a shorter read, but within its pages lies a very interesting story with a likable main character and great supporting characters as well. I wish there had been more time spent examining the characters' powers and building up to the conclusion, but I'm sure there will be more of the former in the 2nd book.
'Solid' is a great story rooted in science fiction, but it also has a sweet romantic aspect to it which I really enjoyed. I don't have a whole lot to say about this one except that I really enjoyed it. It was very well written, well thought out, and interesting. I definitely can't wait to read the 2nd book and see what Clio and her new friends are up to.
Rating:





[4/5]
Find
Solid
by Shelley Workinger on
Goodreads
,
Book Depository
, &
Amazon.ca