I've been a reader since I was a little girl. To try and name all my favourites would be impossible. Even to try and figure out which book over the course of my whole life I'm most thankful for is a daunting task. I have some favourites I've loved since I was little (The Giver, A Wrinkle in Time, The Magician's Nephew), but when I think about a book I'm most thankful for my mind can't help but drift to a book I read earlier this year. This gorgeous book is entitled '
Jellicoe Road
' (or 'On the Jellicoe Road', originally) by Melina Marchetta.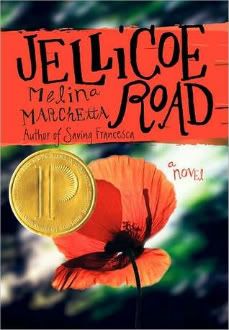 Just thinking of 'Jellicoe Road' makes me slightly giddy. There are very few books I feel passionate enough about to recommend them to everyone with no caveats, but this is one of them. Whenever someone mentions it I can't help but squee over it, and when I see positive reviews I get so excited that someone else has enjoyed it as much as I did. I feel a connection to 'Jellicoe Road'. I created a label here on the blog for my review of it called "beyond description," because that's what 'Jellicoe' is to me. I can go on and on about it, but when it comes down to it I can't even fully describe how much I adore it.
'Jellicoe' is heartbreaking and hopeful. It's simple and complex. It's confusing at times, but ultimately rewarding. Gorgeous, breathtaking, disjointed, poetic. It will make you laugh and make you cry. I don't know how Melina Marchetta writes so beautifully, but somehow she does. No other author makes me feel the way she does with her words.
I really can't think of a more beautiful book, and that is why 'Jellicoe Road' is a book that I'm thankful for. I really can't praise Melina Marchetta's writing enough.
You can read my review of 'Jellicoe Road' here.
And now in full confession time, I'm writing this post because I saw a
contest on Beth Revis' blog
.
Really, this is the ultimate way to enter a contest. It's an epic giveaway, so who wouldn't want to win the prize (open internationally, btw)? But it's also awesome to hear about all these books that are special to people, and I've really enjoyed reading the several posts I've seen about it in my Google Reader.
If you enter the contest or have just written about a book you're thankful for be sure and link me to it in the comments, because I'd love to check it out!