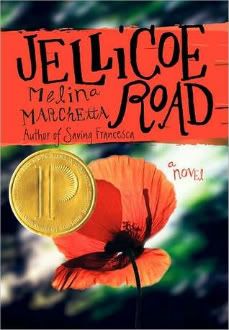 Release Date: September 1, 2008
Publisher: HarperTeen
Pages: 419
Series: n/a
Review Source: Library
Synopsis:
(from Goodreads)
"What do you want from me?" he asks. What I want from every person in my life, I want to tell him. More.
Abandoned by her mother on Jellicoe Road when she was eleven, Taylor Markham, now seventeen, is finally being confronted with her past. But as the reluctant leader of her boarding school dorm, there isn't a lot of time for introspection. And while Hannah, the closest adult Taylor has to family, has disappeared, Jonah Griggs is back in town, moody stares and all.
In this absorbing story by Melina Marchetta, nothing is as it seems and every clue leads to more questions as Taylor tries to work out the connection between her mother dumping her, Hannah finding her then and her sudden departure now, a mysterious stranger who once whispered something in her ear, a boy in her dreams, five kids who lived on Jellicoe Road eighteen years ago, and the maddening and magnetic Jonah Griggs, who knows her better than she thinks he does. If Taylor can put together the pieces of her past, she might just be able to change her future.
My Thoughts:
I think this might be one of the best books I've ever read. I can easily place it within my new favourites, and probably also within my favourites of all time. I know I definitely need to own a copy ASAP so I can bug everyone I know to read it. Since library school I've paid a bit more attention to award winning books, but I don't necessarily pick them up. It's a bit different with YA, but award winners bring to mind boring literature that's way above my head. Well this is not at all the case with Jellicoe Road, in case you were having doubts. I've read so many gushing reviews of this book, and I wasn't sure how it could possibly live up to them. I trained myself as I started reading: "Don't get your hopes up. Don't expect something amazing." Well maybe it's good that I did do that, but either way I came out of this with hope soaring within me. It's almost implausible that a book so wrapped up with themes of grief could leave me with so much hope, yet that's the beauty of Marchetta's story. She takes simplistic actions and emotions and shakes them up, intertwining two slightly parallel stories, creating something absolutely breathtaking.
If you enjoy straightforward stories with a clean narrative this might not be the book for you. Melina Marchetta does not give you outright answers: she makes you work a bit to figure out what exactly has gone on. This is not to say that you need to be a detective to work everything out. If you have patience and some common sense you should be able to figure out the connection between the two stories written within these pages, in fact, sometimes figuring things out before Taylor, the main character, does herself. 'Jellicoe Road' is not quite as confusing as some people make it out to be. It's disjointed and poetic, and sometimes you may be frustrated with the jumping around, but the way the story is told is so rewarding I can't imagine it any other way. Even right now I'm having a hard time pinpointing what exactly about this novel is so amazing, probably because I don't think it's just one thing. It's the writing, the characters, the overarching message... everything comes together so wonderfully to tell a story that will probably make you both laugh and cry. I hope I have convinced you to pick up this book, because I don't think that you'll regret it. Some final words: Jonah Griggs =
amazing
. Just trust me on that one.
Rating:





[5/5]
Find
Jellicoe Road
by Melina Marchetta on
Goodreads
,
Book Depository
, &
Amazon.ca