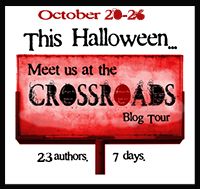 If you're looking for some posts to check out next week, be sure to go experience
THE CROSSROADS
. 7 bloggers will be hosting more than 20 authors from October 20 - 26.
Authors participating in the tour:
Judith Graves
Nicola Marsh
Joy Preble
Sarah Bromley
Elizabeth Holloway
Amanda Ashby
P.J. Hoover
Dorothy Dreyer
Amy Christine Parker
Lucienne Diver
Lisa M. Cronkhite
Jen McConnel
Kiki Hamilton
Patrice Lyle
Kelly Hashway
Jackie Morse Kessler
Christine Fonseca
Molly Cochran
Carrie Harris
Dawn Dalton
Ty Drago
Victoria Scott
Check out the posts for great content, and for a chance to win a Kindle pre-loaded with books from the participating authors.
for more information